Last month Talent RISE (UK) was honoured to be invited to join a panel discussion organised by the UK arm of The Association of Professional Staffing Companies (APSCo UK). APSCo is a trade body that helps differentiate the professional recruitment sector by raising standards and by delivering expert support and market intelligence to its membership.
The theme of the event was "exploring new talent sources for the professional recruitment sector to drive diversity and enable growth" and our UK Director Andy Chaggar joined representatives from two other social impact organisations on the panel.
In a market where candidates are scarce the aim of the event was to give APSCo members the confidence to explore less traditional candidate sources, and through this leverage the many business benefits of a more diverse workforce.
Joining this discussion was immediately attractive to us for several reasons. Firstly, Talent RISE is the charitable foundation of Talent International, a digital-technology recruitment specialist. Secondly, our mission is to upskill and empower young people to build thriving careers whilst assisting employers of all types to build diverse and inclusive working environments. So, the topic was exactly up our street!
Although the overall event considered diverse candidates of all ages, Andy's focus was naturally on young people, and as an introduction he explained how Talent RISE had previously supported Talent International to engage diverse young talent, including through the Government's Kickstart scheme. He also highlighted the company's exciting new commitment for 1-in-10 of their workforce to either be a young person supported by the charity, or a charity staff member, in the future.
The overall discussion was very lively and well received by the APSCo (UK) members attending. There was also a fantastic talk by business psychologist Graham Mitchell about the 5 A's framework. This really resonated with us in relation to traits employers can look out for when considering hiring, and we wanted to share it through the lens of hiring young people.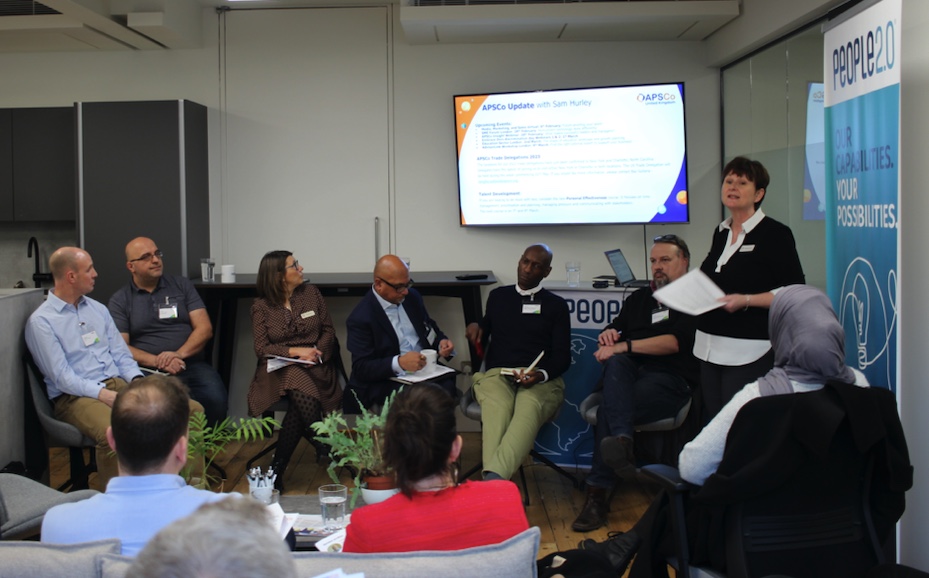 Ability:
This is obviously important to consider when hiring – however this doesn't have to mean 'CV friendly' or lots of existing hard skills.
For example, are they good listeners? Can they take readily take advice onboard and apply it? If you can identify and nurture traits like these then you could have an incredible employee on your hands, even if they don't immediately read as one on paper.
Attitude:
This is important at any career stage – but especially early on, so keep this in the front of your mind.
If someone shows drive and a desire to succeed this should set them apart from someone who is more experienced but disinterested.
Hiring young people can provide you with loyal, hungry employees who are willing to go the extra mile for you.
Alignment:
Don't mistake this as 'like-mindedness' and the push for a work environment full of clones.
Young people today are increasingly driven by purpose, so instead look out for similar values and a passion for the work you do (especially if you're a purpose driven organisation) – this way your employee is more likely to give 100% of themselves to each task.
Affinity:
Again, this isn't about looking for a 'hivemind' attitude to your organisation – but how a new young employee gets on with your existing team and its culture is obviously important.
This may be a tricky one, especially if your existing workforce is older, but if your values are aligned you've got a common starting point and organisations like Talent RISE can offer advice on how you can engage and include younger people.
Appetite:
Perhaps the most important of the 5 A's – appetite is something that can't be taught or trained, it's more of a trait that naturally exists (or doesn't). It should also be a key factor if you are considering non-traditional recruitment sources.
While someone might not necessarily have the traditional qualifications or existing skills you might look for, they may have a raw hunger to learn and succeed – and in the long term this can pay you pack in spades if you nurture and support them on their journey.
Summing up and thanks
Overall, each organisation will need to consider which of the 5 As it needs employees to have from the outset, and which can be developed or nurtured. Having been through this journey with Talent International and many other employer partners we'd love to have a conversation with you about this too.
In this case simply reach out to us here: https://talentrise.org/contact/
Finally, thanks to APSCo (UK) for inviting us to their great event and to Graham for sharing his "5 A framework" with us